War Planets: Shadow Raiders. Good story, great animation. Why did it get cancelled? Because of some short-sighted toy company.
THE THEME: For eons the four planets FIRE, BONE, ROCK and ICE have never known peace. Their inhabitants' ancient jealousies and petty prejudices leave no time for the development of cooperation or peace. Although they share a common ancestry, these are a people divided, until one man, Graveheart of the Rock, discovers the greatest menace of all. The BEAST PLANET is now emerging from the darkest region of space, and it is an evil world whose sole purpose is the absolute destruction of every lifeform it encounters. Graveheart now realizes that only the combined power of the four planets can stop the BEAST.
THE EPISODES: There are 26 episodes. I have all of the episodes except those marked in GREEN. I taped them directly from the broadcasts in LP mode.
Season 1 (1998-1999)
Behold The Beast (Originally Aired 9/19/1998)
On The Rocks (Originally Aired 9/26/1998)
Born In Fire (Originally Aired 10/3/1998)
Bad To the Bone (Originally Aired 10/10/1998)
Wolf In The Fold (Originally Aired 10/17/1998)
Mind War (Originally Aired 10/24/1998)
J'Accuse (Originally Aired 10/31/1998)
Blood Is Thicker... (Originally Aired 11/7/1998)
Rock And Ruin (Originally Aired 11/14/1998)
Against All Odds (Originally Aired 11/21/1998) SP vg 668
Uneasy Hangs The Head (Originally Aired 11/28/1998)
Ragnarok: Part One (Originally Aired 12/5/1998)
Ragnarok: Part Two (Originally Aired 12/12/1998)
Season 2 (1999-2000)
Worlds Within Worlds (Originally Aired 9/18/1999)
This Is The Way The World Ends (Originally Aired 9/25/1999)
Period Of Adjustment (Originally Aired 10/2/1999)
Blaze Of Glory (Originally Aired 10/9/1999)
Sandstorm (Originally Aired 10/16/1999)
Girls' Night Out (Originally Aired 10/23/1999)
Time Bomb (Originally Aired 10/30/1999)
Embers Of The Past (Originally Aired 11/6/1999)
Divided We Stand (Originally Aired 11/13/1999)
Nor Iron Bars A Cage (Originally Aired 11/20/1999)
Death Of A King (Originally Aired 11/27/1999)
The Long Road Home (Originally Aired 12/4/1999)
Ascension (Originally Aired 12/11/1999)
THE LINKS:
www.mainframe.ca/shows/warplanets/html/index.html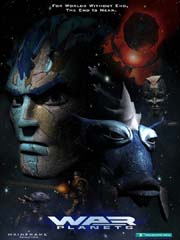 RETURN TO THE BIG FAT CARTOON PAGE